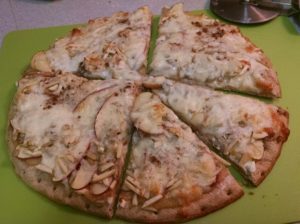 Whole wheat crust (the other one from the Whole Foods 2-pack)
Apple, sliced thin.
Applesauce
Mozzarella cheese (or a cheddar blend)
Cinnamon
Sunflower seeds
Almond slivers
Cream cheese (optional)
Prep your crust as directed on the package or in your recipe. Again, I would recommend a short pre-cook for homemade crusts.
I decided to try cream cheese on this one, so I put little dabs of it all over and spread them out a little. I'm not sure it made much difference in the end.
Spread applesauce on the crust. Sprinkle with cinnamon, and don't be stingy. Add the apple slices in a circular pattern. It looks cool.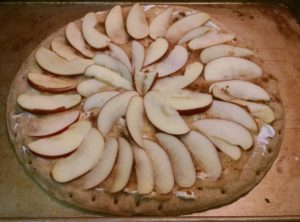 Next comes the sunflower seeds and almonds.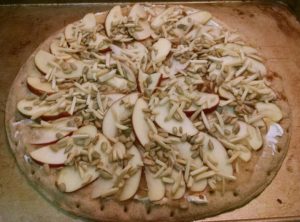 Cover the whole thing with the cheese.
Bake at 400° or so until the cheese starts getting golden brown on the highest points. It's so good.
Enjoy!