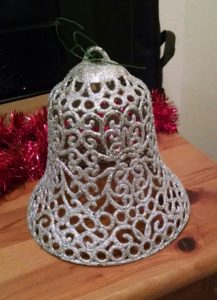 I'm sure I was meant to have this silver bell.
I saw it rolling in an awkward bell-roll way down by the corner of the alley and the road this morning, pushed by the warm pre-storm winds as I left this morning.
When I came back, it was farther down the road, rolling into the entrance to the car wash. Clearly, it was not going to be returning to its home, wherever it came from. I took pity on it and stopped to pick it up.
How far had it traveled? Maybe I'll go looking for the tree it came from, somewhere south of the alley…
Meantime, I'll enjoy it.