Welcome to Gingerbread Village!
Our little community (and we mean little) features several custom cabins for your enjoyment. Take a look around and start planning your next getaway!
The Village itself features six gingerbread cabins on tidy, shiny aluminum foil lawns with a few gingerbread trees that do not shed leaves in the fall. All of the buildings are edible, and we anticipate that we will have to rebuild next year.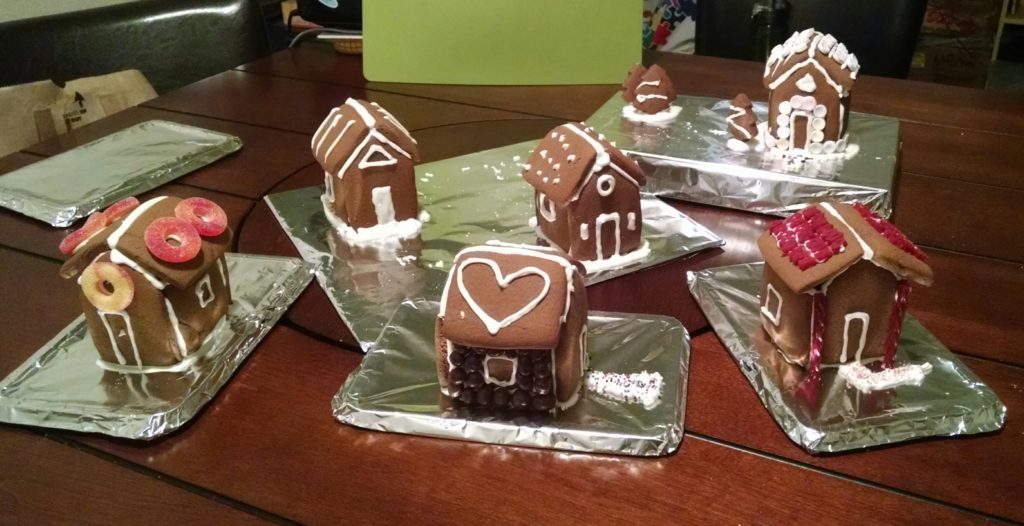 Cobblestone Cottage:

This little beauty features a Goobers-style cobblestone face on one side and a lovely colored sprinkles walkway leading to the simulated door. The roof has a heart-shaped pattern that can only be seen by our aerial photographer.  This cabin has window outlines on three sides, for stunning views of gingerbread walls.

 
 

Smarties Shack:

The name is alliterative, but this is no shack. This charming little cabin has Smarties all around and an impressive lawn with mature trees. Adding to the luxury offered here is the larger longer sprinkles on the walkway and the double door that you could imagine opening into the back yard.  This is the smart choice.

Licorice Lodge:

This cabin will add a little twist to your stay. The licorice highlights on the corners and roof make this cabin stand out and say Stop! A quaint sugar sprinkle sidewalk leads to a solid door outline. You could probably smell the strawberry scent from inside.

 
 

Peachy Place:

This one is for the sweethearts. Large peach rings practically overwhelm this little cabin, but it's sturdy construction holds up. Note that this cabin actually has a doorknob, and looks like you might pass right under that peach ring if you used it.

 Them other cabins:

If you're looking for something less fancy and slightly less sugary, these cabins still have a lot to offer. Fancy lines and dots on the roofs and special features like a solid door or an attic porthole give you plenty to appreciate.

 
Okay, so some of you can do these things in your sleep. This is my first time doing any kind of gingerbread house, and I had the opportunity to TRY it, so why not? I had fun. I didn't try to straighten the edges of the cookies, so there are plenty of gaps and some very well-vented rooftops. Which is one reason I am posting this: it isn't perfect, and I'm trying to get past thinking I have to have things perfect before I can share them.
Hope you enjoyed it!
What I'm reading:
Ways to Disappear by Idra Novey
Crocodile on the Sandbank by Elizabeth Peters (audio)
Courses I'm taking:
Design Patterns in C++
Machine Learning
A Life of Happiness and Fulfillment
Things I have been putting off:
Car maintenance
Planning a trip home