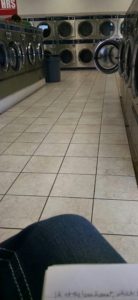 Sometimes I need to go to the laundromat.
Swishy Washy is my favorite, not just because of the name.
It's clean and well-maintained. There are cameras, so I feel a bit safer and it keeps people from vandalizing the place.
I bring my notebook and sometimes I write while I'm waiting. About exciting things like doing laundry. Yes, my life is fascinating.